As in every kind of job, agricultural workers must also be able to work safely and protect their health, even in situations of possible risks, such as accidents involving tractor roll-overs.
In order to manage with such situations, various actions have been taken in recent years by public bodies and health authorities that have enforced very stringent regulations, making it compulsory for both employers and self-employed workers to adapt older tractors by fitting specific protective systems.
This has also involved a significant effort by tractor manufacturers who have begun to introduce state-of-the-art protection systems, always focused on the objective of minimising risks. If newer tractors now comply with all the regulations, for older machines the situation is more problematic and requires a number of interventions.
Let's look at the updated adaptation regulations and possible solutions at your disposal to ensure safe and compliant tractors.
Important preamble
Before analysing the technical aspects in further detail, let's clarify some important points.
Adapting tractors to protect them from rolling over is a mandatory procedure and the person responsible for this adaptation is the user himself.
 The sale or lease of a non adapted tractor is strictly prohibited unless the equipment is sold as non-functioning and therefore as scrap or historical relic for display, even with the promise that the purchaser shall bring it up to standard.
Only authorised workshops are allowed to install roll-over protective structures – ROPS
The EU Regulations on tractor safety
One of the main risks is the roll-over and crushing by the machine. In order to manage this danger, it is necessary to adopt solutions to avoid or at least reduce the roll-over risks for operators: these are set out in European regulations such as:
European Directive 42/EC of 2006, known as the Machinery Directive, makes explicit reference to the protection of operators in cases of roll-overs (ROPS) and falling objects (FOPS), further to restraint systems to keep persons on their seats (you can find the text of the  Machinery Directive 42/CE/2006 here).
What safety devices are required
There are 2 types of tractor safety devices required by the regulations:
The protective frame, a rigid structure designed to guarantee a safe volume for the operators in the event of tractor roll-overs
The seat belt, in order to keep operators in their seats and prevent them from being hurled from the cabin in the event of a roll-over
In both cases, these are solutions designed to prevent such dangerous events from generating consequences for the safety of operators.
All tractors must have a support frame with 2 rear rollbars, fixed or folding, with 2 front rollbars, fixed or folding, or with 4 rollbars, according to a series of parameters, including the tractor type, mass, shape and size of the safety frames and the tractor connection devices.
Safety frame conformity certificates
Once a regulatory compliant protective structure has been installed, the manufacturer must issue a certificate of conformity (Annex III). This document must be retained together with the declaration of correct installation of the protective structure, drawn up by the person carrying out the intervention (Annex IV).
If a protective structure complying with the specific EC directives is to be installed, the manufacturer shall issue a document certifying that the structure has passed the foreseen resistance tests, which must be retained together with the declaration of correct installation (Annex IV bis).
There is no need to update the license of the tractor.
It goes without saying that those who buy a new tractor will not have to worryabout this aspect, as they will benefit from machines that have been manufactured in accordance with all such standards, with safety devices custom designed for the tractor in full compliance with the most recent standards.
Tractor cabins: complete solutions for safety and comfort
Nowadays, tractor cabins not only provide a safe structure for operators, but also an actual work environment, a solution that is often highly appreciated by those who spend up to 10 hours a day working on tractors.
If the driver is in a position to work in peace, this reduces the probability of accidents: this is why it is essential to design cabins that are able to guarantee all the comfort and ergonomics necessary to be able to work efficiently and safely.
The objective of tractor manufacturers is to widen the gap isolating operators from machines, to protect the driver not only against accidents, but also from vibrations, noise, sun and external temperatures, dust and sprayed plant protection products.
These results are achieved with cabins and seats that are capable of reducing vibrations: this is the case when adjustable pneumatic or hydraulic seats are installed, making it possible to dampen vibrations and oscillations. Moreover, the use of anti-vibration silent-blocks or actual suspensions under the cabin contribute even further to achieving this result.
Isolation of the driving environment is also achieved thanks to state-of-the-art cabins providing protection against dust and plant protection products. The most advanced system is that available on the protection level 4 cabins, such as the Lounge Cab available on the Landini Rex4. The environment is slightly pressurised, to prevent air and possible harmful substances from penetrating from the outside. The air entering the cabin must pass through activated charcoal filters that retain and neutralise harmful substances. A top-of-the-range protection that complies with the highest safety standards with factory assembled cabins.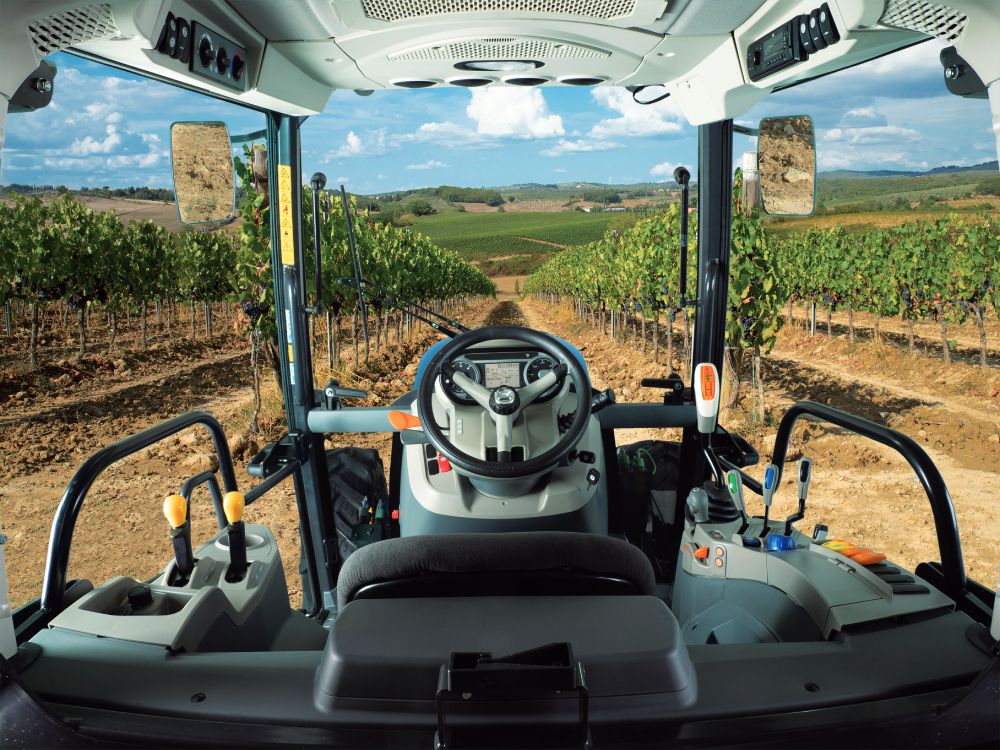 It is also essential for the driver to have maximum visibility, an objective that is achieved by the introduction of larger windows and the reduction of shaded areas. Another very important aspect, especially for contractors, is also field lighting during evening and night work: the new Landini 7 Series is equipped with a new roof with 12 LED work lights providing 360 degree night vision.