San Martino in Rio, in the province of Reggio Emilia, is the core operational hub of the Argo Tractors spare parts and logistics management operations: thanks to the state-of- the-art and efficient warehouse that represents one of the operational centres of the multinational leader in agricultural mechanisation.
"For us, it is a fundamental strategic asset – explains Giorgio Guaitoli, Parts Director of Argo Tractors – on which we have always focused significant investment, especially over the last few years. And today it has become an even more crucial tool and cutting-edge service, to overcome the limits and restrictions imposed by the pandemic."
There has been a clear change of pace caused by the pandemic, which has increased the use of remote management for spare parts and customer support. However, the history of the Spare Parts Division and its consistent technological implementation at the Argo Tractors facilities has been taking place for decades. The first major milestone dates back to the end of the last century, when Argo Tractors decided to computerise its logistics processes. The strategic decision to close some of the warehouses located in Europe, and to centralise everything at the hub in San Martino in Rio, naturally led to the transition towards a computerised management of the logistic processes. This allowed optimisation of customer services. Thanks to the partnership with an external IT developer, a new and bespoke computerised system was put in place. Not only to manage the spare parts warehouse, but also of the production logistics throughout all the Group's facilities.
Starting with the management of the goods receiving process, over twenty years of implementation and optimisation of the system means that today the automation of the spare parts flow is complete. It is perfectly integrated within the production and support processes of Argo Tractors, aimed at boosting the satisfaction of farmers and contractors. The digitised receiving, classification and storage process of incoming materials has been put in place with the automated management of stock verification and control procedures. Thus, guaranteeing real-time control and swift processing of orders.
"To achieve these results – explains Guaitoli – we have carried out major investments in the automation and digitisation of our warehouse, which currently occupies an area of 40,000 m², with 8 packaging lines, capable of handling deliveries to over 100 countries, processing 800,000 order lines per year. We are committed to guaranteeing deliveries to all our European dealers in less than 24 hours, with same-day shipping to  all our non-European dealers. The combination of know-how and cutting-edge solutions for automated warehouse management is the key element that allows us to minimise delivery times and assure the constant availability and swift retrieval of any spare part to all our customers."
The customisation of the parts management system faced its most complex challenge yet last year, due to the global pandemic.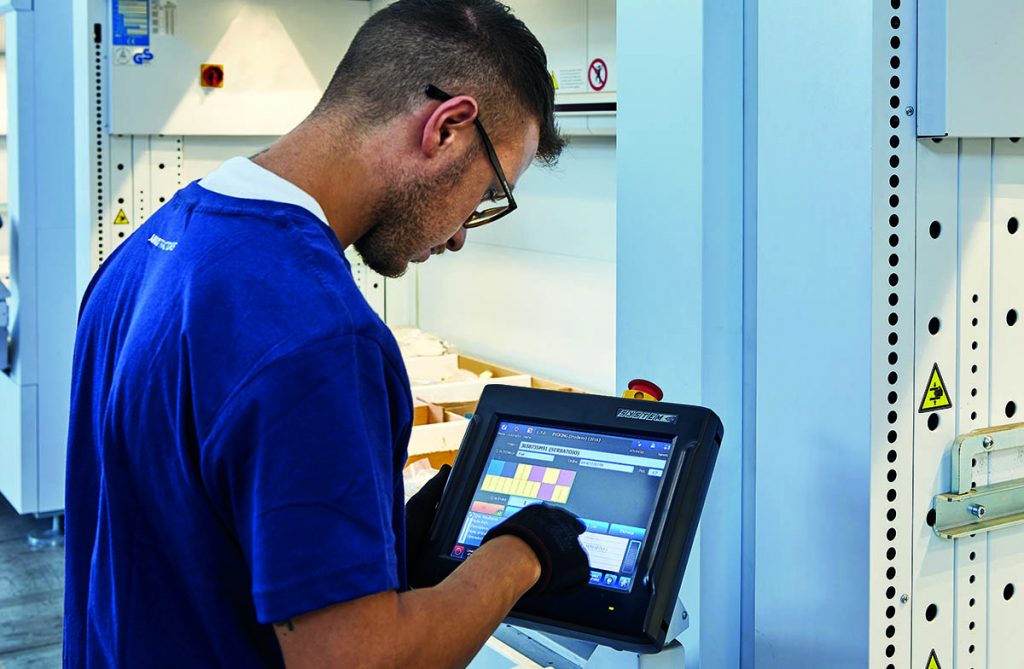 "Lockdown – Guaitoli emphasises – has accelerated a process already in the pipeline, i.e. smaller orders and more widespread deliveries to individual end users, farms or dealers.. This has led us to optimise the way we respond to requests for remote support and the supply of spare parts which, in order to make us competitive and strategic, must be timely and highly professional. Our warehouse is the core asset of our support and spare parts service: our highly specialised and courteous personnel are always at the service of customers even in the most demanding moments, such as the global pandemic. 100 employees are at work, 60 working in the goods picking and shipping area, and 40 in the sales, administration, technical and logistic areas. And, to support the team, we have created a digital catalogue, Argo Parts, which allows our dealers to order 100,000 products directly online and always in stock, an assortment that is completed by the over 11 million catalogued items."